An easy to use plugin to add an animated preloader to your website with fully…
The wordpress plug-in LoftLoader is satisfying to get. This plugin is build by Loft.Ocean. Loft.Ocean is a WordPress plugin developer. For the extension to download you need to have at least wp version 5.0. In total there areat last 25 users that review LoftLoader.
LoftLoader was used 60.000 times! The plugin has a rating of 94 out for 100, 22 users gave it a 5 star score.
Questions about LoftLoader
Where can I install LoftLoader
Common question about LoftLoader
Where can I download LoftLoader?
You can get the plug-in via the Download button.
How do I use LoftLoader?
The documentation about this plug-in can be read on several locations. You can read it on the wordpress website
Is LoftLoader safe to get?
Yes it's sure safe to use LoftLoader. But you have to make sure to always be up to date with WP, and do not skip your website backup
Where van I get support for LoftLoader?
Via the website of the developer|wordpress|the wordpress forum you wil get the support from the creator
Screenshots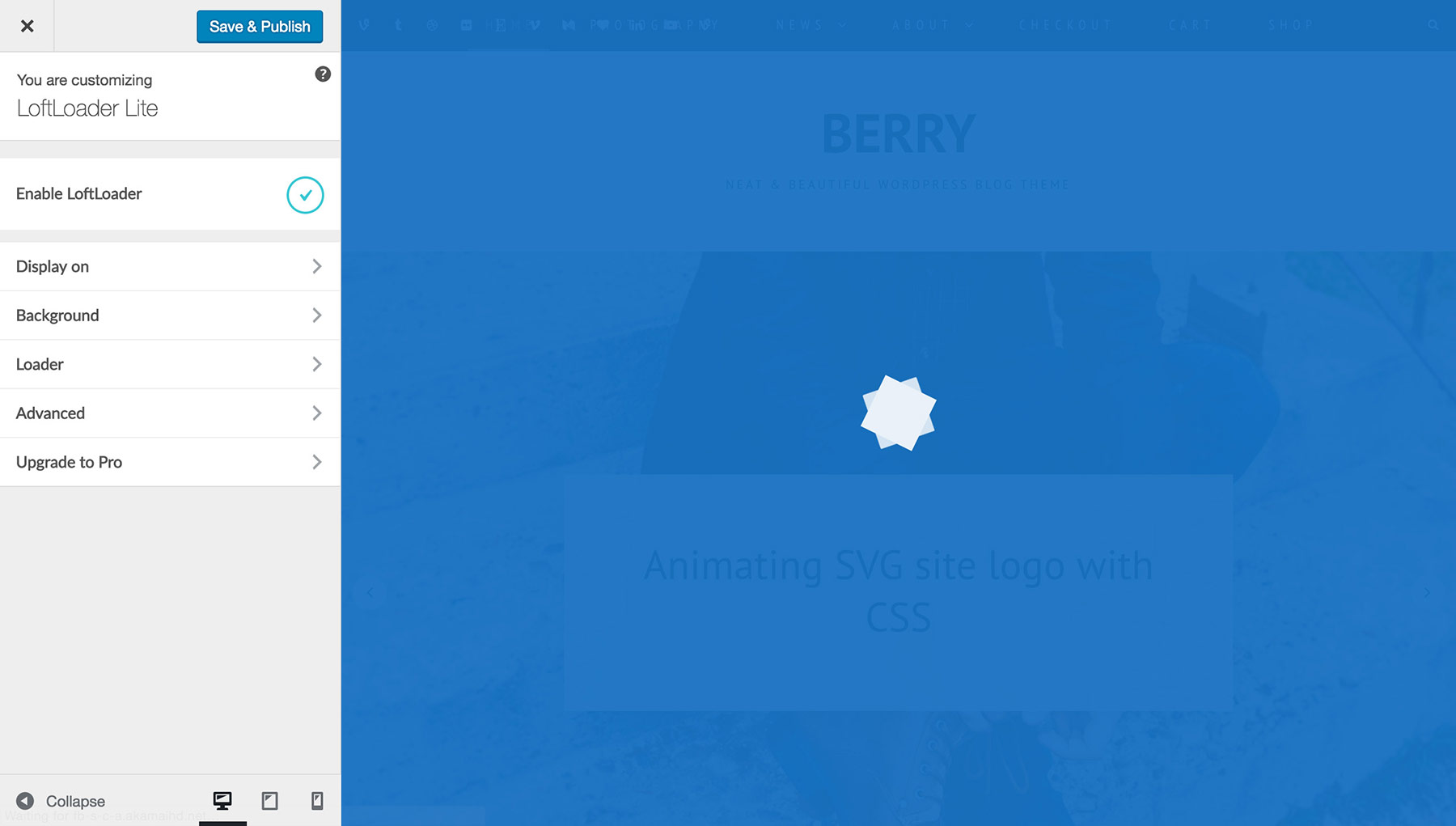 Details
| | |
| --- | --- |
| Name | LoftLoader |
| Version | 2.3.8 |
| Ratings | 25 |
| Downloads | 379.226 times |
| Last update | 2022-02-25 8:43am GMT |
| Date created | 2016-03-01 |
Description
Small and powerful. LoftLoader helps you to add a beautiful animated preloader to your website, and have full control of its look, without writing any code.
Features & Options
Enhanced settings panel with WordPress Customizer.
Pure CSS3 animation. Works in any modern browser.
4 ending animation effects.
7 loading animation effects. 2 of them support custom image.
Unlimited background color. Also can change the opacity.
Unlimited loader color.
Can add different loaders for different pages on one site (New feature since v2.0. Only works for "Pages".).
Responsive & retina ready.
Option to enable/disable the preloader.
Option to enable preloader on site homepage only.
Close button to quit the loading screen. Users can set when to show the close button (range: 5 to 20 seconds), and customize the close button text.
Ready for translation (.pot file included).
Light weight, fast. Coded with SASS. CSS & JS minified.
Online Documentation
To know how to use the plugin, please click the link to check online documentation. It's the documentation of Pro version. But you can still find Lite version features details in it.
How to contact us
If you have any questions or encounter a problem while using LoftLoader, please create a topic in the support forum. If you contact us via email, please indicate that your question corresponds to LoftLoader Lite.
To speed along the support request, please follow the steps below
Update to the latest versions of your WordPress, themes and plugins.
Check online documentation and FAQ first.
Test by following this guide to check if it is a conflict with other plugins or themes.
If you still cannot find a solution, please contact us.
When submit your support request, please follow the guide.
Pro Version
LoftLoader Pro is available. Upgrade to pro version and get more stunning features!
Handpick – Turn the preloader on for specific pages or posts.
Hide the preloader for picked post types – products, portfolios, etc.
Option to display the preloader once per visitor session.
Support gradient background color, full background image, and repeating background pattern.
More ending animations.
Loader – 19 types of animations to choose. 6 of them support custom images.
Looping – Animation can be set to loop forever, and some animations can be set to run just once (ends after page has loaded).
Progress – Progress bar, counting percentage, or both. Any color. Position, size & font control.
Message – Enter your custom welcome or loading message to display. Control color, position & font. And supports Random Message feature.
Load Time – Set a minimum load time to prevent the pre-loader from disappearing too fast.
Device Control – Choose to show the loading screen on all devices, or hide on mobile, or show on mobile only.
Option to enable smooth page transition effect. Check the example.
Choose to save customize styles as inline styles in <head> or as an external .css file.
Option to disable page scrolling while loading.
Can add different loaders for different Pages, Posts and custom post types (such as portfolios, products, etc.) on one site.
Users can choose which elements to detect during the loading process (All elements / Images / Videos / Images & Videos).
Purchase once, free lifetime update with new features.
Check some examples created by pro version.
Please note: Although you may find that LoftLoader Lite (the free version) can run on older versions of WordPress (below v4.7), LoftLoader Pro only supports WordPress v4.7 or higher. Because the Pro version has more features than the Lite version, including some new features introduced after WordPress 4.7. We always recommend using the latest versions of WordPress to ensure compatibility with your theme and other plugins.